Unlike her prim alter ego, Emma Watson knows how to throw a party.
The actress, 20, who plays straight-laced Hermione Granger in the blockbuster Harry Potter franchise, hosted a dinner at her home in England recently as filming on the series drew to a close.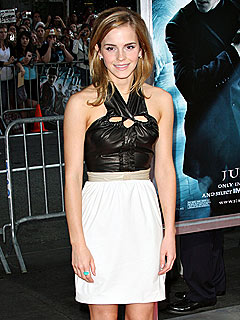 "The last week of filming Emma had a dinner at her place, and we spoke about the best moments of filming, our secret crushes on set – all kinds of random questions," says James Phelps, who plays mischievous Fred Weasley in the movies. "But all the answers to these questions will stay in that room!"
Phelps and his twin brother Oliver, along with Potter stars Daniel Radcliffe, Rupert Grint, Michael Gambon and Tom Felton were in Orlando Wednesday night for the grand opening of The Wizarding World of Harry Potter at Universal Orlando. Also on hand: Potter author J.K. Rowling, who attended the event with her husband Neil Murray but didn't speak to the press.
"If I ever get a bit homesick, I have somewhere to come now," Felton, who plays Harry's foe Draco Malfoy, says of the park, which recreates everything from Hogwarts castle to The Three Broomsticks pub in painstaking detail. "It's incredible."
Nostalgia will certainly set in as the first part of the final film, Harry Potter and the Deathly Hallows, hits theaters in November.
Also On RadioNOW 100.9: