Lindsay Lohan has some explaining to do.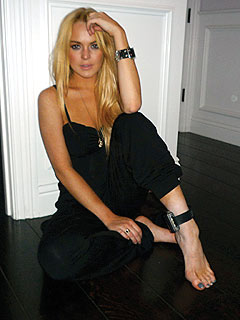 Her court-ordered alcohol-monitoring bracelet, called a SCRAM device, was trigged Sunday evening during an MTV Movie Awards afterparty, according to a source close to the case.
It remains unclear whether alcohol was detected in her system or if the device was tampered with. Either one would alert authorities.
Lohan, 23, could face jail time if the judge in her case rules that the actress violated the conditions of her bail – which include abstaining from alcohol and submitting to random drug testing. Judge Marsha Revel is expected to receive the SCRAM report soon, the source says, and could order Lohan in for an immediate bail revocation hearing.
Another possible explanation: Someone may have spilled on Lohan's device. "Just because a SCRAM is triggered doesn't necessarily mean the wearer was drinking alcohol," says forensic expert Mike Hlastala. "Alcohol accidentally spilled on the SCRAM could trigger it, but the device will know that it didn't come from the wearer's bloodstream. If the wearer tries to remove the device, that would cause an alarm as well."
Lohan's attorney, Shawn Chapman Holley, wasn't immediately available for comment.
The SCRAM checks for traces of alcohol in the wearer's perspiration. The device must be worn at all times.
Lohan was fitted with the device on her left ankle last month after she pulled a no-show at a mandatory progress review hearing and a warrant was issued for her arrest.
She also faces a probation violation hearing on July 6.