Hold on to your tiara's y'all!
This girl is like the real life version of Sandra Bullock's character from the movie "Miss Congeniality."
The notoriously conservative Miss America pageant is in full swing with preliminary competitions this week and the televised pageant on ABC this Sunday (Sept 15). But the squeaky-clean pageant is in a state of shock after one contestant decided to brazenly commit a major pageant taboo: She's rocking some HUGE tattoos.  
Meet Miss Kansas, Sgt. Theresa Vail. She's only the second contestant in the military to ever compete in the Miss America pageant (Miss Utah 2007 was a combat medic in the Army National Guard).
And did I mention she's a badass?
She's an expert M16 marksman, a bow hunter, a skydiver, a boxer and a mechanic. She used to be a motorcycle racer but had to stop after breaking all the fingers in her right hand (which didn't bose well with her aspirations to become an Army dentist). She can skin a deer,  claims to have a great squirrel stew recipe and, one day, she hopes to hunt bear with her bow and arrow. Oh, and did I mention she can speak fluent Chinese?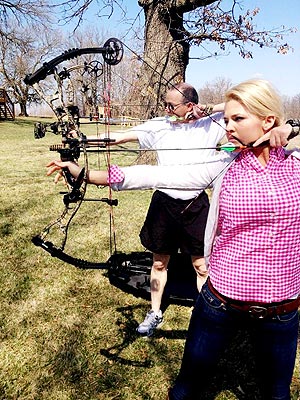 Vail joined the Kansas Army National guard three weeks after she turned 17. And even though she recently re-enlisted for six more years, she's now a senior at Kansas State University with a double major in Chinese and chemistry. She loves the outdoors and has been an avid hunter since she was 10.
"Nobody expects a soldier to be a beauty queen," Vail says, "but I'm all about breaking stereotypes."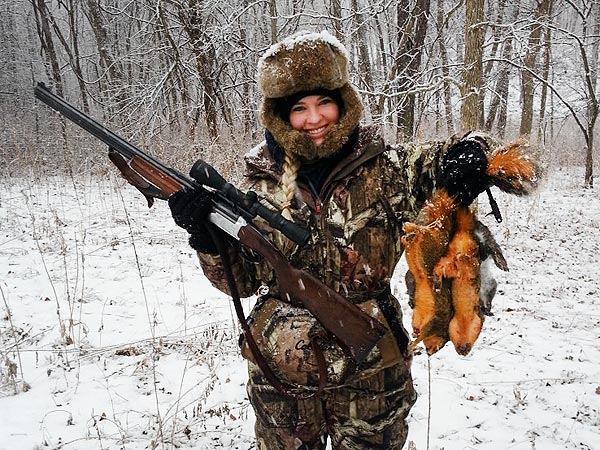 But when she strutted down the runway in Atlantic City's Boardwalk Hall in her bikini during Miss America preliminaries earlier this week, she left people with their jaws on the floor. Not just because she had a rocking bod: but she also had two GIANT tattoos. One, the insignia for the U.S. Army Dental Corps on her left shoulder and the other: the Serenity Prayer running down her entire right side.
Now, women with tattoos are not all that uncommon in pageants. There have been some every year but the unspoken rule of pageants is that you must cover your tattoos. In fact, according to pageant-world sources, she was allegedly instructed by her local director to cover her tattoos while competing at the Miss Kansas pageant. But at Miss America, she's throwing all the rules out the window.
And she's got a great reason.
"Why am I choosing to bear my tattoos?" Vail says. "My whole platform is empowering women to overcome stereotypes and break barriers. What a hypocrite I would be if I covered my ink. How can I tell other women to be fearless and true to themselves if I can't do the same? I am who I am, tattoos and all."
And she did! ANDDDDD she ROCKED IT!
 "I was bullied when I was a kid. It got so bad that I nearly took my own life … My dad [an Army dentist stationed in Germany] took me hunting with him and it saved my life. Ever since then, I've been an outdoors girl," she says. "My passion is empowering girls through male-dominated outdoor sports." She adds, "I want to help them develop confidence, to let them know that they have what it takes to accomplish anything they want to accomplish. I know many young girls look at beauty candidates and think, 'What a perfect life they have.' But I want them to know that I haven't led a perfect life. And that beauty comes from the inside."
Nine months ago, her commanding officer convince her that she would be a great role model and that she should enter a pageant.  So she entered her very first beauty pageant. She initially planned to demonstrate archery for her talent. But two days before the competition, she was told "projectile objects" were forbidden, so she had no choice but to either drop out or think of a new talent.
And for all you "Miss Congeniality" fans out there, no…it wasn't making music with water glasses (but that would've been sweet….)
She chose to sing. And not some easy song from a karaoke album. Nope…she picked opera.
"I'd never sung opera in my life," Vail says. "I had an appreciation for it" – she spent part of her childhood in Europe – "and I sang soprano in choir back in high school, but I hadn't sung since then and certainly never opera."
So she logged onto YouTube, found Luciano Pavarotti's "Nessun Dorma," and in no more than 48 hours mastered it so well that she actually WON talent Miss Kansas (and of course the Miss Kansas title too).
"I've worked with five former Miss Kansas contestants and I've never seen anyone this focused and determined," says Kim Brom, business manager for the Miss Kansas pageant. "She has so many different qualities – she's a hunter, she's in the military, she's fluent in Chinese, she's very educated and, even more than that, she has that unquantifiable star quality."
And on Sunday night, she might just become Miss America…
(Photo's courtesy of Miss America and Miss Kansas Organizations)